Recommended Back Packing Trips | Day Hikes | Recommended Reading | Transportation to the Trailhead | Checklist
Click here for Guided Backpacking Trips
Have you ever considered using a remote backcountry cabin instead of a tent – check out these affordable private remote cabins.
Online Maps
National Parks exist in order that every citizen of Canada may satisfy a craving for Nature and Nature's beauty; that we may absorb the poise and restfulness of the forests; that we may steep our souls in the brilliance of the wild flowers and the sublimity of the mountain peaks; that we may develop in ourselves the buoyancy, the joy and activity we see in the wild animals; that we may stock our minds with the raw material of intelligent optimism, great thoughts, noble ideas; that we may be mad better, happier and healthier. J.B. Harkin, First Commissioner of National Parks, 1911-1936
Although it is accessible as a day hike, one of my favorite backpacking trips is into Dolomite Pass on the Helen Lake trail. The distance from the trailhead to the pass is about 8.9 kilometres or 5 miles.


The trail to Helen Lake (6 kilometres or 3.4 miles) is one of the best places to observe wild flowers. The alpine bloom usually begins in early July and features indian paintbrush of all shades of red, pink and burgundy, as well as bright yellow glacier lilies on the avalanche slopes and purple gentians popping their little heads up through the grass at trailside.
The bloom is most impressive in the first two weeks of July, which is usually an excellent time to make the hike as the snow has melted enough to offer a reasonable passage over the pass between Helen and Katherine Lakes.
The hike from the trailhead meanders through the subalpine forest (keep your eyes open for bear sign and make plenty of noise) over crystal clear mountain streams, and provides wonderful views back to Crowfoot Glacier (across the Icefields Parkway) through a series of openings in the forest.


As the four of us make the moderately strenuous climb from Helen Lake up into the pass I feel I am being watched and see a marmot poking his head out from behind a rock before he scurries into his burrow. Once at the pass we find a spectacular view of Katherine Lake and Dolomite Pass below us. That's right. Dolomite Pass is lower than the unnamed pass we just crossed.
Above Katherine Lake are the towering spires and massive cliffs of Dolomite Peak with a large glacier resting in its lap.
We descend onto the gravel flats below and make our way along the north side of Katherine Lake. As we gradually move up into Dolomite Pass and onto softer ground we see numerous diggings amongst the wild flowers where grizzly bear have been trying to get at ground squirrels and marmots in their underground burrows. We loudly make our way up over Dolomite Pass to warn any bears of our approach and drop into the "wildland area" where random camping is allowed.
– No camping is allowed until this point –
We camp on the east side of the pass near the river just before it plunges over a series of falls and down into the flats five hundred feet below. We will be able to hang our food bags off the cliff above the falls.
That evening as we are sitting and talking my wife sees a small speck coming over the pass from Mosquito Creek three kilometers to the south. And then another smaller speck behind it. We get out the binoculars and are able to identify a grizzly sow and her cub. The excitement mounts…

Dolomite Pass in the Northern end of Banff National Park
The bears move down from the pass towards us at a slow pace. We are thrilled at the site of these two bears as they amble down along the river and begin to sniff out marmots in burrows beside orange lichen-covered rocks.
The sow begins to dig furiously with her powerful claws and arms, causing dirt and vegetation to fly out behind her. They continue digging and move closer. We discuss our situation and decide that it's time to let the sow know we are here. We slowly stand and begin our noisemaking by yelling, shouting and clapping our hands. The sow turns, looks at us and starts running back up the stream with the cub close on her heels. They disappear behind a knoll at running speed.
Now we know we aren't alone in the pass. I sleep somewhat uneasily that night with my ears open. I once had a black bear step through the roof of my tent onto my face on a camping trip, but that's another story from a different time and place…
In the morning I drag myself out of my sleeping bag after an uneasy sleep and slowly unzip the door to our tent. I have a feeling that something is out there. I poke my head out of the tent and take a quick look around. It's a beautiful morning. I turn my head to look behind the tent towards the trail and catch a glimpse of something moving. My heart races as I see an out-of-focus grizzly bear. I try to focus my sleepy eyes and finally realize that a wolverine is looking directly at me and me at him. As our eyes meet from 30 metres apart the wolverine speeds off the trail and runs up through the pass. Before my wife can poke her head outside our tent the wolverine has sped across the pass and is racing up the scree slope at the foot of Cirque Peak. Wow! Two grizzlies and a wolverine – this is incredible!


We spend the day poking around the meadows in the pass with the marmots and hiking above the pass to the north for a spectacular view of the whole area. It is from this vantage point that we spot two golden eagles soaring high above us. We get our binoculars out and sit and observe. We also scan the terrain for any sign of those two bears. We don't see them or any sign of them…
… until later that evening when we are just finishing my specially prepared gourmet backcountry burritos with fresh jalapeno peppers. One of our friends spots a speck coming through the pass from the Mosquito Creek area. We wait expecting to see another speck, but no other one appears. We realize this is a smaller bear than the sow but too big to be the cub. This bear follows the same path down the pass and toward the river where it, too, begins to dig for ground squirrels or marmots. This must be a good place for dinner. We sit and observe and again make noise when we feel the bear is getting close enough.


Oh No!! Bad news! The bear is running towards us! The good news is that its ears are pointed forward – an indication of curiosity. Nonetheless, my heart rate has increased considerably. The bear stops at the river and stands up on its haunches to get a better look and smell. It then turns and runs parallel to the river and somewhat away from us – what a relief.
He finally ambles over to a snow bank and just sits down and watches us watching him. He looks like a three year old – bear that is. He probably weighs around 80 kilos with a head twice the size of mine. Not quite like my three year old son who barely weighs 15 kilos.
We watch each other for five minutes before the bear gets up and ambles down the pass and then straight up the mountainside to the east. He disappears into the gray limestone rocks five hundred metres above us.
We are amazed at the bears climbing ability. A park warden once told me that he ran into a grizzly bear on the peak of one of Banff's mountains. Needless to say they were both quite surprised. As we are – three grizzlies and a wolverine. What next?
One of the joys of the wilderness experience is not knowing what to expect – you never know what or who you are going to run into… in the heart of the wilderness.
Both black and grizzly bears inhabit front and backcountry areas of the Canadian Rockies. Your safety is your own responsibility. In order to minimize encounters with bears that could endanger your life and that of the bear, please follow these suggestions:
Make plenty of noise to ensure you will not have a surprise encounter with a bear – whistle, sing, clap your hands or holler every now and again, especially when travelling through thick brush, near streams, on avalanche slopes and through berry patches. Clapping and making noises like the classic pig call (soooouuuEEE) tend to travel farther in windy, noisy (creeks are surprising noisy) enviros.
Keep your eyes open for any sign of bears – tracks, diggings, poop
Don't take pets into the backcountry, they may provoke a bear attack.
Hang all food, garbage, pots and pans, toothpaste, etc. from bear cables (in designated campsites) or from solid trees or cliffs.
In random camping areas sleep well away from your cooking area and camp at least 10 metres off the trail.
Where fires are permitted, burn all combustible garbage completely and carry out everything else.
Never put garbage down a pit toilet as it may attract bears to the campsite.
A quick check with your local park visitor centre will usually have 'bear hot areas' – most parks are closing areas where significant bear activity is present.
Keep a clean camp – do not leave anything out while you are away from the area – I've seen bears eat toothpaste, soap, tinfoil, SOS pads, deodorant, entire tubs of margarine, etc. Campground bears know what coolers are – that's where the food is kept… so place them inside your car when not in use.
If you do encounter a bear on the trail – stay calm (yes I know…), talk to them, yell at them (to ensure they can hear you … tell them all about the lovely berries you saw 20 miles to their right…) Bears tend to stand up on their hind legs when they encounter you – don't be alarmed – they are trying to smell you.
Things to remember:
Climbing trees (if required) are good if you can manage it – most of the branches on the predominant spruce and pine here in the mountains that can support our weight are about 8 feet up.
Most bears can run at about 35 miles/hr (that's about 55 km/hr for those of us in Canada) and can maintain that speed for several miles. Yes they get slowed up running downhill on slopes in excess of 20 degrees – unfortunately so do we….
Bears will NOT usually follow you up a tree UNLESS it's a black bear mom whos cubs are nearby (she's just doing her job) – she'll go away to take care of her cubs when she's satisfied you're not a threat. Hopefully you haven't picked the same tree her cubs have climbed up.
Remember grizzlies have a good 8 – 13 foot reach (depends on size) so climb high. I have also watched a grizzly climb a tree where the lower branches allowed it to pull itself up by its forearms.
Bear spray is a defensive measure only that is to be sprayed directly into the face of the bear if they are charging at you — p.s. it's usually only effective at a range of about 8-10 feet… I know they claim 30 but wind, your shaking hands, etc….
Guns are not allowed to be carried in any national park. Provincial parks do not allow guns either* (*except in a very few designated seasons and areas for hunting purposes)
If a bear – after you have told it all about the easy snacking in the next valley – won't go away — it's time for you to go away.
If the bear is walking towards you on the trail -> get off the trail as best and as far you can without falling off a cliff or such -> more than likely the bear wants the trail… hey beats crashing thru the bush – that's why we made them.
If the bear is standing it's ground (i.e pawing the ground, smacking it's lips) It's guarding something – most likely something to eat — back away talking to it — keep going back down the trail until you can not see the bear anymore — go back to the park ranger/warden office and tell them what behaviour you saw (the pawing of the ground, etc… so they know you're not just a freaked out hiker who 'saw a bear' and can investigate).
Above all remember – they are not out there waiting for you like Ninja Bears… more than likely you will have more trouble with the dang ninja squirrels…. just follow some common sense rules like making noise when you can't see so you do not surprise a bear, tell them all about yourself if you run into one, and keep calm.
Truthfully I'm more nervous in the big city than out here.
Recommended Day Hikes
Banff Area | Lake Louise Area | Canmore/Kananaskis Area
Recommended Overnight Hikes and Minimum Number of Nights
One Night: Healy Creek; or Mosquito Creek; or Paradise Valley Two Nights: Dolomite Pass; or Mystic Pass; or Glacier Lake Three Nights: Healy Creek – Healy Pass – Egypt Lake – Whistling Valley – out via Red Earth Creek Four Nights: Mosquito Creek – Molar Pass – Fish Lake – the high route to Pipestone Pass – Isabela Lake – out via Dolomite Pass
Ten Nights: Mosquito Creek – Fish Lake – Clearwater Pass – Clearwater River – Peters Creek – Divide Creek – Red Deer River – Red Deer Lakes – Skoki Valley – Deception Pass – out via Boulder Pass *** NOTE – this is a trip for experienced backcountry travellers who are used to off trail navigation, river crossing, and self sufficiency…. it is a gorgeous trip but YOU WILL BE ON YOUR OWN WITH NO SUPPORT – CELL PHONES DO NOT WORK HERE… and Wardens rarely patrol this far back in the park…
If you don't have your own vehicle you may be able to get to and from the trail head you have chosen with one of the local transportation companies. Check their schedules and requirements before heading out. Some trails are accessible by walking from the Town of Banff and the Village of Lake Louise.
Patton, Brian and Bart Robinson, The Canadian Rockies Trail Guide, Summerthought, Banff, Canada, 1986
Pole, Graeme, Classic Hikes in the Canadian Rockies, Altitude Publishing Canada, Ltd., Banff/canmore, Alberta, Canada
Potter, Mike, Backcountry Banff, Luminous Compositions, Calgary, Alberta, Canada, 2001
Potter, Mike, Hiking Lake Louise, Luminous Compositions, Calgary, Alberta, Canada, 1999
Wherever you go you will need to be prepared. This checklist will give you some idea of what I feel are important items to take with you on your backpacking experience.
Wilderness Pass – available from National Park Information Centres Tent, Poles, fly, pegs Sleeping bag and mattress Rain gear Shorts and long pants Sweater Gloves Jacket Comfortable hiking boots Socks (thick and thin) Change of clothes Hat for the sun and a wool hat or equivalent for the cold Waterproof matches and fire starter Map and compass Camera and film First-aid kit Mosquito repellant Bear spray Knife, spoon and fork Cup and bowl Camp stove and repair kit Fuel food and nylon stuff sack Rope for hanging food bag – at least 10 feet off the ground and 4 feet from the tree trunk Flashlight or headlamp.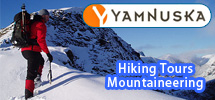 For further information on guided tours in the Canadian Rockies, fill out the blue form on the right side of this page.