Lake Louise, Field and Area
Advance reservations are strongly recommended for the summer season, and for all national and international holidays. During ski season, advance reservations are recommended at all Lake Louise, Field and Area hotels. Visitors to the Banff and Lake Louise area may also choose to stay in the mountain community of Canmore, which offers additional accommodations and is located just 15 minutes east of Banff.
Discover Biking in Scottsdale, Arizona!
Phoenix/Scottsdale Bike Rentals
Bike Scenic Arizona Canal

The Juniper Hotel and Bistro
Banff – Art-Eco Lifestyle Hotel offers the best mountain views due it's exclusive location at the base of Mount Norquay, only 2 kms from downtown Banff. This designer hotel features fifty-two accommodations including chalets with kitchens and king jacuzzi suites. Free wireless, bike rentals, outdoor hot tub and full service Bistro, Lounge and Patio. The Juniper is Banff's only 100% clean energy hotel and is a leader in environmental initiatives.
Website: Click Here!
Fill-up our Cabin Rental Booking Request Form now!
Vacations Roost

Vacation home rentals in the Banff National Park area and environs.  Over 100,000 professionally-managed vacation homes and condos in 80 destinations.  Also, check out the Free Golf Special when you book now.
Website: Click Here!

Paradise Lodge & Bungalows
Lake Louise, Alberta, Canada Located in the heart of the Canadian Rockies, near the shores of world-famous Lake Louise in Banff National Park, Paradise Lodge & Bungalows is a family run business. Paradise Lodge has been owned and operated by the Pedersen family for more than 50 years. Each guest can fully enjoy a true mountain experience. Our guests visit from around the world to relax and surround themselves in our spectacular scenery. There are two types of accommodations offered at Paradise, individual cabins and lodge suites.
Website: Click here!


Book Hotels in Lake Louise Thru Canadianrockies.net – Get $100 worth of FREE Activities and Food Discounts
Promo Code: 266527
Free $100 worth of coupons and discounts do not apply when you book directly with a hotel.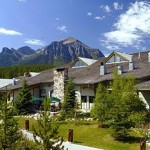 Lake Louise Inn


The Lake Louise Inn In Alberta, Canada, Features A Lush, Natural Setting Close To Nature Trails, Scenic Points And Lakes. Shopping Is Available At Samson Mall, Within One-half Kilometer Of The Hotel, And 30 Kilometers Away Is The Majestic Johnson Canyon.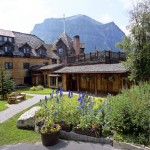 Deer Lodge – Lake Louise, Alberta, Canada


The Deer Lodge Is Secluded Within A National Park Near Lake Louise Village In Alberta, Canada. The Lodge Stands One Kilometer From Hiking Trails And Six Kilometers From The Lake Louise Ski Hill.
The Deer Lodge Retains Much Of Its Original Hand-hewn Log Features And Décor, While Architectural Structures Have Been Restored. A Stone Fireplace Glows, While A Cedar Sauna Banishes The Evening Chill.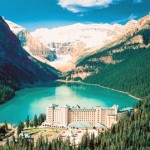 The Fairmont Chateau Lake Louise, Alberta, Canada


The Fairmont Chateau Lake Louise Sits Eight-stories Tall On The Shores Of Lake Louise. Surrounded By The Canadian Rocky Mountains, The Hotel Is Adjacent To The Plain Of The Six Glaciers Trail. The Hotel Is Less Than Five Kilometers From The Parks Canada Information Center And 10 Kilometers From Lake Louise Mountain Resort.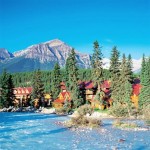 Post Hotel & Sp – Lake Louise, Alberta, Canada


Perched at 1500 metres amidst the natural wonders of Banff National Park you will find this cherished Alpine chalet. Canada's largest ski area is just minutes away and the abundance of snow is just one reason a growing number of European skiers visit the area each winter. An award winning wine list, and fresh market cuisine are featured in the renowned dining room.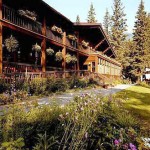 Emerald Lake Lodge– Lake Louise, Alberta, Canada


Standing At The Base Of A Placid Aquamarine Lake Beneath Yoho National Park's Towering Cliff-faced Mountains, The Rural Emerald Lake Lodge In Field, British Columbia, Represents An Ideal Rocky Mountain Escape Within 30 Kilometers, Or 20 Miles, Of Lake Louise Ski Hill And Even Nearer Pristine Waterfalls And The Canadian Pacific Railroad's Famous Spiral Tunnels. Outdoor Adventure Seekers Can Enjoy Snowshoeing, Cross-country Skiing, Hiking Along Numerous Trials, Rowing Or Canoeing, And Fishing.