This page gives a quick overview of all of the on-line accommodations in all of our destinations, please check out as many choices as you can to get a clear picture of the range and style of accommodations offered in this area.
Sunwapta Falls Resort of Jasper

Jasper, Alberta – For over 30 years Sunwapta Falls Resort of Jasper has helped nature loving vacationers just like you experience the amazing wonders of a Jasper National Park vacation in the spectacular Canadian Rockies. Come enjoy fine dining, romance packages and complimentary holiday planning.
Website: Click Here!
Stoneridge Mountain Resort of Banff & Canmore

Canmore, Alberta – Stoneridge Mountain Resort, found within the majestic Canadian Rocky Mountains in Canmore, Alberta and just 15 minutes to Banff and Banff National Park, has luxury suites and accommodations that offer comfort, space, and the perfect oasis for your next Canadian vacation or conference. The Canmore resort is only minutes from the Canmore town center.
Discover Biking in Scottsdale, Arizona!
Phoenix/Scottsdale Bike Rentals
Bike Scenic Arizona Canal
Website: Click here!
The Falcon Crest Lodge of Banff & Canmore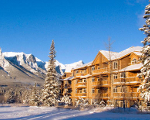 Canmore, Alberta– Canada – Falconrest Lodge of Banff, Albert offers luxurious mountain accommodations located within minutes of Banff National Park. The Falcon Crest Lodge in Canmore offers the perfect setting for your next Rocky Mountain Retreat. As one of Canmore's finest hotels, Falcon Crest Lodge allows you to indulge with our hotel features and amenities including granite countertops, fluffy duvet comforters, pillow-top mattresses and unparalleled service. Just 15 minutes from Banff and close to golf, ski and the best things to do in the Canadian Rockies.
Website: Click Here!
CopperStone Resort Hotel of Canmore, Alberta, Canada

Canmore, Alberta – Found in Dead Man's Flats, a one-of-a-kind area in Canmore and surrounded by the picturesque Canadian Rockies, is an excellent vacation spot. Just minutes from Banff, enjoy any of our one and two bedroom furnished suites. Our inviting suites wrap around our beautiful courtyard where guests can enjoy a quiet hot tub or gather around the outdoor fireplace all while taking in the sights.
Website: Click here!
Silver Creek Lodge

Canmore – Experience Mountain Zen. A fusion of sound, texture, warmth and tranquility, brought into balance by the power and beauty of the Canadian Rockies. Inspired by Zen tradition, to bring attention, reverence and harmony to all things, Silver Creek Lodge offers a unique environment with all the comforts of a cosmopolitan lifestyle in luxurious and unique condo suites.
Website: Click here!
Cross River Wilderness Centre

Banff – The perfect getaway. Cozy wilderness cabins and main lodge, with close proximity to Banff and Kootenay National Parks and Assiniboine Provincial Park. This is an EcoLodge; self-sufficient, environmentally friendly, and role models true stewardship of the land. The heritage cabins are each individually decorated complimentary to mountain life. The main lodge provides delicious freshly prepared home cooked meals and Wow! they have some of the best hiking in the rocky mountains.
Website: Click here!
Paradise Lodge & Bungalows

Lake Louise, Alberta, Canada Located in the heart of the Canadian Rockies, near the shores of world-famous Lake Louise in Banff National Park, Paradise Lodge & Bungalows is a family run business. Paradise Lodge has been owned and operated by the Pedersen family for more than 50 years. Each guest can fully enjoy a true mountain experience. Our guests visit from around the world to relax and surround themselves in our spectacular scenery. There are two types of accommodations offered at Paradise, individual cabins and lodge suites.
Website: Click here!
Backcountry Lodges
Because of their special nature – only being accessible by hiking or skiing to the property (Exception: Assiniboine and Diana Lake has helicopter access from Canmore and Purcell Lodge has heli access from Golden ) we have chosen not to list all the backcountry lodges, only a selection of the best one that suit the category.
Mount Assiniboine Lodge
Banff – Backcountry lodge in Mount Assiniboine Provincial Park. Helicopter and hike in access.
Website: Click here!
Bayshore Inn

Waterton National Park, Alberta – The Bayshore Inn is located just 45 miles north of the U.S. border and 260 kilometers south of Calgary in Waterton Lakes National Park. We are a seasonal business open from April 28 to October 15. Centrally located in the Waterton townsite, the Inn sits on the edge of Waterton Lake and is just steps away from shopping promenades, tennis courts, boat cruises, bicycle rentals, stables, and golfing. Hiking is readily available on park trails and fishing opportunities abound in the area's many lakes and streams.
Waterton Lakes Resort

Waterton National Park, Alberta – Tucked in the Southwest corner of Alberta, the rugged wind swept mountains of Waterton Lakes National Park rise abruptly out of the rolling Prairie grassland. The park is a scenic jewel, an accessible wilderness that serves as an important four season destination. At the heart of the Waterton townsite is Waterton Lakes Resort. A hotel designed to provide a unique Canadian Rockies lodging experience. It is southern Alberta's full service, environmentally friendly destination resort hotel.
Website: Click Here!
Aspen Village Inn

Waterton National Park, Alberta – In the heart of the Waterton Townsite, the Aspen Village Inn provides the widest variety of, sparkling clean accommodations in the Park. Spacious, well appointed rooms ranging from deluxe suites to cottages with full kitchens and fireplaces provide the highest quality in comfort and convenience. Centrally located, the Aspen Village Inn is only steps away from all the amenities of the village. Spectacular mountain views, whirlpool, playground, in-room coffee, BBQ and picnic area and other amenities are all included at the memorable Aspen Village Inn.
Crandell Mountain Lodge

Waterton National Park, Alberta – A cozy country lodge ideal for travelers looking for a quaint experience. Rooms with fireplaces, country décor, and lots of character. Relax on our peaceful patio that is perfect for savoring the incredible mountain views and fresh air. Alberta Service Best smiles and standards of excellence awarded with Alberta Housekeeping awards, the Crandell Mountain Lodge is a jewel within itself. With the feeling of a country bed and breakfast and the comfort of a lodge, relax and explore. Open year round.
Kilmorey Lodge

Waterton National Park, Alberta – Nestled between the mountain peaks on the shore of Emerald Bay, in the village of Waterton Park. The historic lodge, one of the original buildings in the townsite, began receiving guests in the late 1920's. The beautiful log style building is reminiscent of a country inn, furnished with antiques and treasures collected over the years.
Website: Click Here!
Banff Aspen Lodge